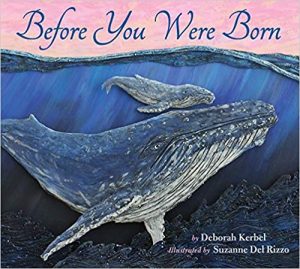 Northern Lights Book Awards
Winner of the Best Illustrations category
Before You Were Born
Author: Deborah Kerbel
Illustrator: Suzanne Del Rizzo
Pajama Press
Before You Were Born is a true celebration of life -a beautiful love letter told by mother and father to their newborn child. Throughout the seasons, we watch as the expectant mother becomes one with nature. Her seaside home and Del Rizzo's spectacular art provide ample opportunity to observe the wildlife as we await her birth.
The original art made with polymer clay and acrylic wash creates a 3D effect. In these stunning spreads, we see a whale and her little one alongside the gentle words of "Asleep on our sighs, Adrift on our dreams." With deer hiding behind the leaves we read, "Your kiss on a raindrop, Your face in new leaves."
At long last the baby arrives, and the last pages capture the complete awe and wonderment only a newborn can bring.Before You Were Born is a visual and lyrical delight. Its tender language reads like a lullaby, making it a wonderful gift for expectant parents.
You can view the full list of Northern Lights Book Award winners here: https://northerndawnawards.com/2019-northern-lights-book-awards-winners/
Disclosure of Material Connection: This page includes "affiliate links." This means if you click on the link and purchase the item, we will receive an affiliate commission.