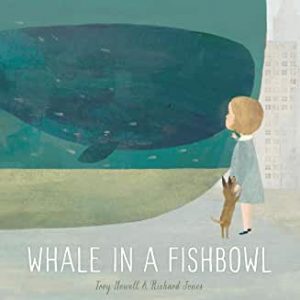 Northern Lights Book Awards
Whale in a Fishbowl
Winner of the Picture Book 4-8 Category
Author: Troy Howell
Illustrator: Richard Jones
Schwartz & Wade Books
What happens when you try to contain the largest mammal in the world in a fishbowl? She gets lonely, that's what. Wednesday the whale lives in an aquarium smack in the middle of the city. Even though the hustle and bustle of pedestrians and traffic surrounds her, she's still lonely and spends her days just drifting about.
Sometimes she would leap up in order to get a glance of the blue speck off in the distance. Though she doesn't know why, her soul would soar whenever she saw it. Soon, Wednesday couldn't get enough of it. All this leaping attracted an audience. Even so, she ached for something else and sometimes buried her enormous head in the sand at the bottom of the aquarium.
Piper, a young girl visiting the aquarium, confirms what Wednesday already knows deep in her heart: "You don't belong here." But Wednesday could only wonder where she does belong. Fortunately, Piper tells her, "You belong in the sea."
Now Wednesday is determined to get there, and begins to leap higher, higher, and higher still, but will it be enough?
Whale in a Fishbowl speaks to our longing for a deeper meaning in life, and how some well-spoken words can change a fate. Pensive and filled with lovely, tranquil tones, this is a storybook to be shared in quiet times, reminding all of us that if we have a dream, we should take that leap!
You can view the full list of Northern Lights Book Award winners here:https://northerndawnawards.com/2019-northern-lights-book-awards-winners/
Disclosure of Material Connection: This page includes "affiliate links." This means if you click on the link and purchase the item, we will receive an affiliate commission.