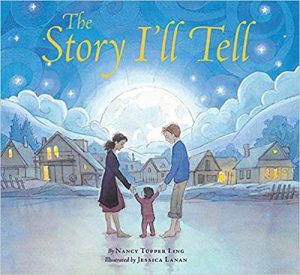 Northern Lights Book Awards
The Story I'll Tell
Winner of the Picture Book 4-8 Category
Author: Nancy Tupper Ling
Illustrator: Jessica Lanan
Lee & Low Books
Be forewarned! Nancy Tupper Ling's writing in The Story I'll Tell is so beautifully rendered, that we are sure it will tug at your heartstrings, as it did ours. You just might want to have a box of tissues handy before you start to read this warm and wonderful story.
A mother metaphorically recounts the story of how her adopted son had to cross over many lands and oceans to find his way to his new family. How exactly did he get there? In tender, imaginative language, she tells him various ways he could have arrived. An angel may have brought him: "Wrapped in her arms, you followed a trail of lanterns around the world until you reached our doorsteps." Or perhaps he arrived by the August moon while lion dancers pranced around him?
The mother tells her son all of this with a sense of wonderment that, even though, "We don't have fancy gates or marble stairs" he somehow choose their house above all others.But the true story of how their son came to them is by far the best one of all.
This cozy story is perfect to read to your little one right before they drift off to sleep. The heartwarming pictures and story will make your child feel safe and loved, giving him or her the sweetest dreams.
We can't think of a better gift to give to any household than The Story I'll Tell. It's not only a celebration of adoption but of all families.
You can view the full list of Northern Lights Book Award winners here:https://northerndawnawards.com/2019-northern-lights-book-awards-winners/
Disclosure of Material Connection: This page includes "affiliate links." This means if you click on the link and purchase the item, we might receive an affiliate commission.