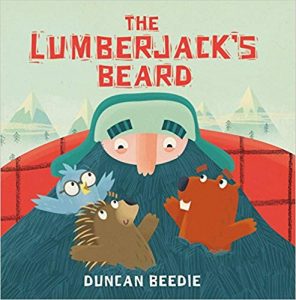 Northern Lights Book Awards
The Lumberjack's Beard
Winner of the Author/Illustrator category
Author/ Illustrator: Duncan Beedie
Templar Publishing
Big Jim Hickory is a lumberjack, and just as one might expect, he wears plaid, sports a big bristly beard, and chops down trees. Lots of them!
Soon an angry bird knocks at his door, informing Big Jim that, because he has chopped down his tree, he no longer has a place to live. What's a lumberjack to do?
Well, if you're soft-hearted like Big Jim, you invite said bird to live in your enormous beard. However, when a porcupine and a beaver must move in too, things quickly get out of hand. With bird poop near his flapjacks and quills in his fingers, Big Jim has got to think of something … and fast! Can he keep his sanity and find shelter for his displaced friends? More importantly, Big Jim realizes there is a bigger issue at hand—how can he make amends to the now empty forest?
With its amusing pictures, fantastic sound effects and humorous story line, The Lumberjack's Beard is sure to be a hit at story time! Not only is it a whole lot of fun, it introduces environmental consciousness to children, making it the perfect book for Arbor Day reading!
You can view the full list of Northern Lights Book Award winners here: https://northerndawnawards.com/2019-northern-lights-book-awards-winners/
Disclosure of Material Connection: This page includes "affiliate links." This means if you click on the link and purchase the item, I will receive an affiliate commission. I am disclosing this in accordance with the Federal Trade Commission's 16 CFR, Part 255: "Guides Concerning the Use of Endorsements and Testimonials in Advertising." For more information about my affiliate links, click here.