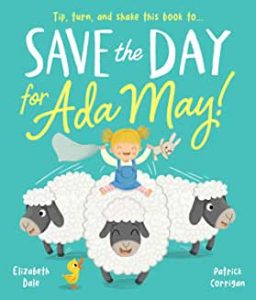 Northern Lights Book Awards
Save the Day for Ada May!
Winner of the Picture Book Preschool Category
Author: Elizabeth Dale
Illustrator: Patrick Corrigan
Willow Tree Books
Wow! Talk about a roller coaster of a story, where your child becomes the hero in Save the Day for Ada May!
In this page-turner, Max loves taking his younger sister, Ada May outside in her stroller. But one day, while feeding the ducks, he unwittingly pushes the stroller down a hill, sending her and the story on a wild adventure. In this hands-on book, it's up to you to save Ada May from rolling into the river. How do you do that? By tipping the book forward. Oh no, you tipped it too far and now she's about to crash into a dog. Steer the stroller around the dog to Save the Day for Ada May!
As the stroller zooms in every direction, it's up to you to tip, shake, and blow into the book in order to keep her safe.
Ada May's smile never wavers as she gleefully lands in a trailer full of sheep, a roof on top of a house, and in front of a stomping bull.
Patrick Corrigan's lively illustrations bring Save the Day for Ada May! to life. Energetic, engaging, exhilarating, and breathtaking …we couldn't ask for more.
You can view the full list of Northern Lights Book Award winners here:https://northerndawnawards.com/2019-northern-lights-book-awards-winners/
Disclosure of Material Connection: This page includes "affiliate links." This means if you click on the link and purchase the item, we will receive an affiliate commission.