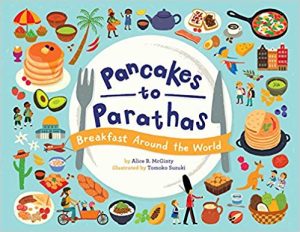 Northern Lights Book Awards
Pancakes to Parathas: Breakfast Around the World
Winner of the Food Related category
Author: Alice B. McGinty
Illustrator: Tomoko Suzuki
Little Bee Books
Good morning! What are you having for breakfast, the most important meal of the day?
Does your family eat the same thing every morning? Well, get ready to whet your appetite and try some tantalizing food in Pancakes to Parathas: Breakfast Around the World, where you are invited to breakfast around the world (twelve countries in all). At Northern Lights Book Awards, we love books that explore diversity in unique ways, and what better way to do so than through food?
Rhyming text entices you to read all the way through or, if you prefer, you can focus on one colorful spread at a time. Each section provides more in-depth information on the country's food and traditions.
For example, in the Netherlands we learn about hagleslag, the flavorful sprinkles that people spread on their buttered bread (sounds yummy!). We also discover other interesting facts such as that most children bike to school in the city of Amsterdam. Along the way, we encounter the map, flag, and other things associated with the Netherlands, such as windmills and tulips.
You will experience breakfast in Mexico (where they enjoy corn tortillas with salsa, eggs and beans) and Brazil (where children enjoy a good cup of coffee). You'll also travel to Israel (where breakfast is a big feast) and China (where people eat sticky rice filled with meat and vegetables).
Don't forget to eat your breakfast and read Pancakes to Parathas: Breakfast Around the World, a real feast for the eyes!
You can view the full list of Northern Lights Book Award winners here: https://northerndawnawards.com/2019-northern-lights-book-awards-winners/
Disclosure of Material Connection: This page includes "affiliate links." This means if you click on the link and purchase the item, I will receive an affiliate commission. I am disclosing this in accordance with the Federal Trade Commission's 16 CFR, Part 255: "Guides Concerning the Use of Endorsements and Testimonials in Advertising." For more information about my affiliate links, click here.