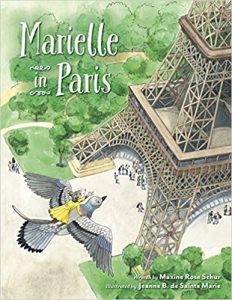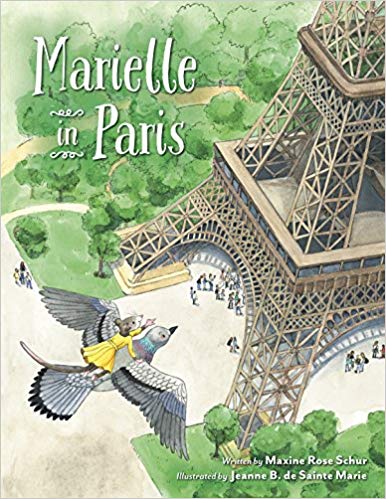 Northern Lights Book Awards
Winner of the Picture Book-All Ages category
Marielle in Paris
Author: Maxine Rose Schur
Illustrator: Jeanne B. De Sainte Marie
Pomegranate
Oh la-la … get ready to soar through fashionable Paris (no passport needed) in this breathtaking book.
Marielle is a seamstress mouse who gets her inspirations from the great city of Paris by day and then sews her creations in her modest flowerpot home in the evenings. Life is simple, until an upper-class woman, Madame de Sooree, swoops in with her nine snooty daughters, commissioning Marielle to make nine unique dresses for their birthday party. Marielle completes the dresses in time; however, disaster strikes when a great gust of wind scatters them throughout Paris.
Marielle runs to her neighbor Pierre, who is a pigeon, for help. But can our little heroine overcome her fear of heights to save the day?
After reading this heartwarming tale, children are encouraged to thumb through the watercolor pages to find what moved Marielle to make each creation. Some of our favorite dresses are the ones inspired by Vincent Van Gogh's Self-Portrait, and the Laduree's gourmet bakery. Marielle in Paris is the perfect way to introduce little ones to the City of Lights. Budding fashionistas are sure to fall in love with it too. Possibly one of the sweetest books ever, Marielle in Paris has a timeless quality that future generations might be lucky enough to find on their grandparent's bookshelf.
To see our complete list of winners, click here: https://northerndawnawards.com/2019-northern-lights-book-awards-winners/
Disclosure of Material Connection: This page includes "affiliate links." This means if you click on the link and purchase the item, I will receive an affiliate commission. I am disclosing this in accordance with the Federal Trade Commission's 16 CFR, Part 255: "Guides Concerning the Use of Endorsements and Testimonials in Advertising." For more information about my affiliate links, click here.