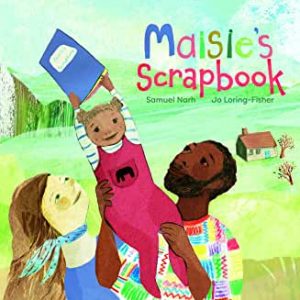 Northern Lights Book Awards
Maisie's Scrapbook
Winner of the Family Category
Author: Samuel Narh
Illustrator: Jo Loring-Fisher
Lantana Publishing
Maisie's father wears kente cloth, plays the marimba, and cooks jollof rice. Her mother wears linen, plays the viola, and eats risotto. It makes no difference to Maisie—who finds comfort in Mama's arm when the neighboring bull frightens her, and gets to be the hero in Dada's tales where she fights Anansi the spider—that her parents are diverse.
Although her parents may have different skin tones, backgrounds, and parenting styles, they hug and love Maisie in the same way. Together, the three of them blend into a beautiful family.
As Maisie explores the outside world, Narh compares her to the seasons by using soft poetic text such as, "She's as relentless as spring rain," and "She's as bright as a summer day."
With its collage like illustrations mixed with soft watercolors, Maisie's Scrapbook reads more like a celebration of seasons and family than a traditional storybook, making it a unique and refreshing read.
You can view the full list of Northern Lights Book Award winners here:https://northerndawnawards.com/2019-northern-lights-book-awards-winners/
Disclosure of Material Connection: This page includes "affiliate links." This means if you click on the link and purchase the item, we might receive an affiliate commission.