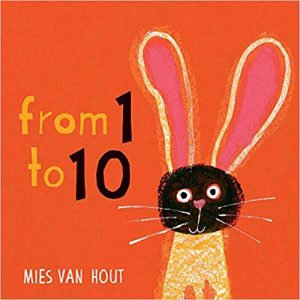 Northern Lights Book Awards
From 1 to 10
Winner of the Board/Toddler Book Category
Author/Illustrator Mies Van Hout
Pajama Press
Bright, bold and beautiful is one way to describe From 1 to 10 by renowned Dutch author and artist Mies Van Hout. But fun would be by far our favorite word to describe this oversized board book.
The vivid illustrations are sure to grab any toddler's attention, and counting the parts of super happy animals will keep every child turning the pages! What child can resist counting an octopus's arms, crocodile's teeth, spots on a bug, or a silly monkey's fingers? Little ones will be too enthralled to even realize they are learning the foundation of math. They can even practice counting to ten, both forward and backward, by using the super-engaging end pages!
Learning to count with From 1 to 10 is a fantastic addition to any toddler's library!
You can view the full list of Northern Lights Book Award winners here:https://northerndawnawards.com/2019-northern-lights-book-awards-winners/
Disclosure of Material Connection: This page includes "affiliate links." This means if you click on the link and purchase the item, we will receive an affiliate commission.