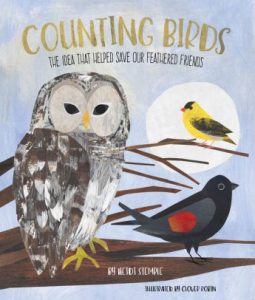 Northern Lights Book Awards
Winner of the STEM category
Counting Birds: The Idea That Helped Save Our Feathered Friends
Author: Heidi E.Y. Stemple
Illustrator: Clover Robin
Seagrass Press
Can something you do today make a difference one hundred years from now? You bet! And Counting Birds: The Idea That Helped Save Our Feathered Friends is here to prove it. Did you know sport hunters used to compete on Christmas day by killing birds? At the end of the day the birds were counted, and the team with the most kills were declared the winners.
Frank Chapman, a bird lover, sought to change this tradition. He proposed instead of shooting birds, people take a census of them. At the end of the day, they would report their tally to Chapman's magazine, Bird-Lore (now the Audubon Magazine).
Because of one man's efforts, birds are now counted all over the world in the Audubon Christmas Bird Count. The National Audubon Society uses this data to determine bird population and identify which species need help.
The Victorian era comes alive in the enduring illustrations, where we get to experience the fashion and decorum of that period. There is also a neat spread identifying some of the birds viewed on the first count.
Children will be especially excited to learn that they can become citizen scientists and participate in the Audubon bird count!
Disclosure of Material Connection: This page includes "affiliate links." This means if you click on the link and purchase the item, I will receive an affiliate commission. I am disclosing this in accordance with the Federal Trade Commission's 16 CFR, Part 255: "Guides Concerning the Use of Endorsements and Testimonials in Advertising." For more information about my affiliate links, click here.