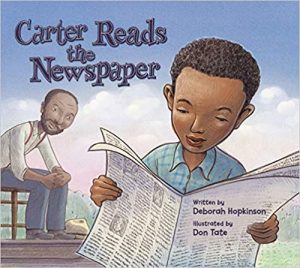 Carter Reads the Newspaper
Winner of the Historical Category
Author: Deborah Hopkinson
Illustrator: Don Tate
Peachtree
It has been said that if you learn to read and write, you can change the world. Such was the case with Carter G. Woodson. While not as well-known as other black Americans, Woodson, the only African- American of slaves to earn a doctorate in history, certainly changed the world. Without him, we might not have Black History Month.
Born just ten years after the Civil War to former slaves Carter had a rough road ahead of him. The family of nine struggled to put food on the table, and Carter was only able to attend school four months out of the year. The rest of the time he had to shoulder his weight by working on the family farm, and later by following his brother to the mines.
Carter's illiterate father made sure his son's scanty education was not in vain, and had him read the newspaper out loud so they could be informed citizens. He also instilled a deep sense of pride in Carter by telling him to declare, "I am your equal!" to anyone who tried to tell him otherwise.
Carter carried this advice to heart when a professor told him, "Black people have no history," and made it his mission to change that point of view. In 1926, after much reading, writing, and learning, he established the Negro History Week. Today, we know it as Black History Month.
History comes to life in this well-told biography of a man who made history and made sure we remembered it. What's more, thirty sketches of some of the people we now celebrate because of his efforts are included on the end flaps, making this the perfect book to share in February, or anytime.
As we celebrate Black History Month, we can remember the father of black history by reading Carter Reads the Newspaper.
You can view the full list of Northern Lights Book Award winners here:https://northerndawnawards.com/2019-northern-lights-book-awards-winners/
Disclosure of Material Connection: This page includes "affiliate links." This means if you click on the link and purchase the item, we might receive an affiliate commission.