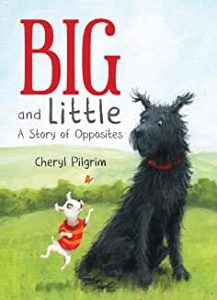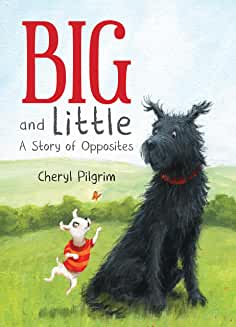 Northern Lights Book Awards
Winner of the Concept category
Big and Little a Story of Opposites
Author/ Illustrator Cheryl Pilgrim
Holiday House
Ask any dog-lover and they will tell you that dogs come in all shapes and sizes and have distinctive personalities as well. So, what better way to introduce opposites than by having two adorable dogs who are as different as bones and bowls? Meet Big and Little, two four-legged friends whose owner is a sweet, elderly woman.
Big might be happy to snooze on the comfy sofa all day if it wasn't for his adventurous counterpart, Little, who jumps out the window to chase a butterfly. Not wanting to miss out in the fun, Big follows behind. While one dog jumps "over" the fence, the other digs "under."
Learning opposites has never been more entertaining as we watch these two canines embark on their exciting escapade. Cheryl Pilgrim's scrumptious illustrations will make you feel as if you are in midst of the romp. Where does the butterfly lead them? Through green fields and forest. Big is cautious, but he follows Little everywhere. Even if that means encountering a giant brown bear. When they make it safely back home, it's time for a nap. That is, until a squirrel zooms by!
Thank goodness we have emerged from the Dark Ages of concept books, where random objects where shown to teach concepts, with no thought of story. Otherwise we might not have such a masterpiece as Big and Little a Story of Opposites.
Disclosure of Material Connection: This page includes "affiliate links." This means if you click on the link and purchase the item, I will receive an affiliate commission. I am disclosing this in accordance with the Federal Trade Commission's 16 CFR, Part 255: "Guides Concerning the Use of Endorsements and Testimonials in Advertising." For more information about my affiliate links, click here.