The Aurora Sparks Toy Awards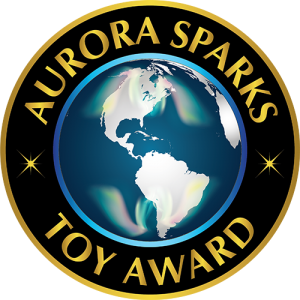 From gentle hearts to trusting hands
The Aurora Sparks Awards honors toys designed for infants through young adults that spark:
Joy

Learning

Creativity

Imagination

And Endless Possibilities
Trust from parents and educators is our number one priority. We recognize they are counting on us to help place extraordinary toys into their children's hands.
The Evaluation Process  
We believe play is serious work and every item submitted is put through a rigorous evaluation process. Items are appraised by a panel of judges, then if accepted, matched to families where they are tested in a "natural environment." Both parents' and children's input are considered in the overall evaluation.
When to submit
Applicants are accepted year-round and will be evaluated as they are received.
How to apply
Click here to download our submissions form:
Only finished products can be considered. Prototypes are ineligible.
There is a processing fee of $100.00
Please send four samples of the product to:
Aurora Sparks Awards
6840 Frank Long Rd
Jamesville NY 13078
Note: If you have an exceptionally large product, such as an outdoor climbing structure you will only need to send one sample (as a general rule, if it can't fit in a typical apartment/home send one product).
Please direct questions to AuroraSparksAwards@gmail.com
Be sure to include your submission form and Safety Certification form.   
If the safety form is omitted it will delay the process as we cannot begin the evaluation until we receive certification that your merchandise meets our guidelines. Books, audio products, and DVDs without merchandise do not need to fill out this form.
Recognition
If your product receives an Aurora Sparks Toy Award a personalized in-depth blog will appear on our website and social media platforms. It will also be featured in the Aurora Sparks Toy Portfolio with a link to Amazon or to your website. Once a year, all award recipients are announced by a press release sent to a comprehensive list of media outlets.
One product per age group will be named The Aurora Sparks Toy of the Year.
If your product wins an award you are not required to purchase anything. Manufacturers wishing to use our trademark are free to do so for the life of the winning product at no cost and will be sent an agreement outlining terms and conditions.
Note: We allow families to keep the items they are evaluating. However, they are asked to donate products when they are finished.
Follow ASA as we help put exceptional products in children's hands.